So I left Lismore today and headed for a day in Sydney.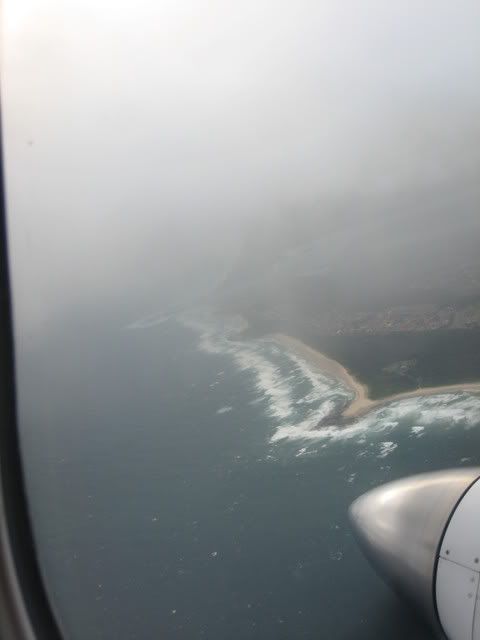 i got into the airport and then headed to find my hostel. I took the train up into the city and started walking. It is called Nomad's Maze, for good reason... the halls are so messed up... you gotta keep track of where you are, or you might get lost! Pat said he got lost when he stayed there. It is really crazy.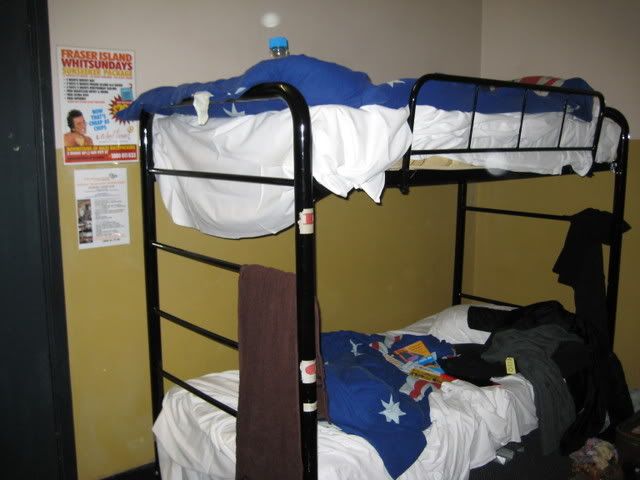 I got in mid morning and dropped my stuff off at the room. One roommate was sleeping and the other was gone. So I grabbed my stuff and headed off to walk the city. I stopped at the desk and asked for a map and the best way to get around. i was about 2 miles from Circular Quay and there was tons to see in between, so I walked. It was amazing.
There will be lots of pictures today and tomorrow...
Might just put a link to flickr or photobucket... I went camera crazy.
First I went to the Sydney Tower. I do believe it is the tallest building in Sydney. I paid the money to go up, which was kind of spendy, but well worth it. The views were absolutely amazing. I was so in awe of being there... it was so surreal. I didn't really have a great view of the opera house, but had a great view of the harbour and the bridge... so awesome.
Then I worked my way up Pitt Street toward the Circular Quay, which is the major harbour. I had grabbed a bunch of flyers before I left the Hostel. I knew I wanted to do a harbour tour, the opera house, maybe climb the pylon and go up the tower. So I had the Tower done - Check! So there was a harbour tour in 35 minutes, so I hustled up to the harbour. I went to Captain Cook's Harbour tour and bought a ticket... then I got a picture with Captain cook himself...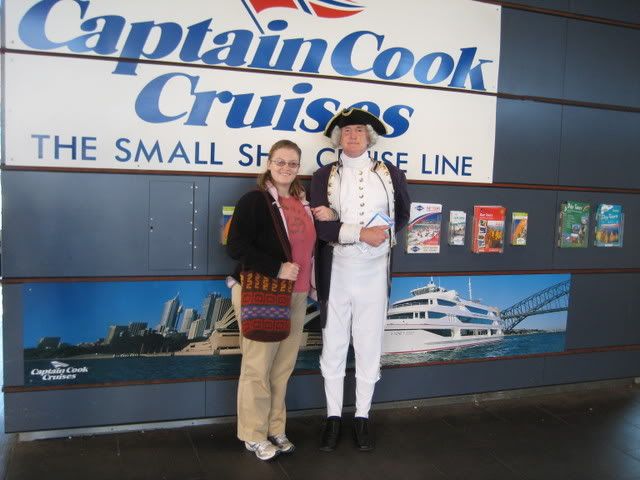 So I wandered over to where to boat launches and got onboard. I took a few pics as we left the harbour and sure enough, the battery died on my camera! ARGH!!!! Talk about shitty timing. I was so irritated. I had planned on doing the Opera House also that day, but didn't want to go without my camera. So i sat back and enjoyed the rest of the tour. I decided to walk to the Opera House and see when the first tour was in the morning. My flight wasn't until 145p, so I had a little time. I bought a ticket for the 9 am Sunday tour. So I started back toward the hostel. I just took my time and stopped and looked at stuff when I wanted to. I found an awesome sushi place that has sushi on a conveyor belt that winds around the restaurant. Each plate is a different color and there is a key to what each one costs in front of you. So when something goes by that you want, you just grab it and eat it. of course my camera was dead, so I didn't get a picture. But it was super cool. Then I wandered back to the room. It was still early in the day, relatively. I sat in my room for about an hour and read a book and drank a beer. I met my one roommate Amy, who is from Toronto and has been traveling since January.
Then I met the other roommate, Emma. She is a doctor of Chinese medicine and an acupuncturist. She was in Sydney for a conference on using acupuncture as a way to treat drug addicts. So I picked her brain. I find it so intriguing. So we spent the entire night hanging out, chatting and bs-ing. Then I got up my courage and asked her if she would do some acupuncture on me, so I could try it... I've always found it interesting, but never had the courage to do it. So she looked at my tongue and took my pulses... yes, plural. We have 27 different pulses, taken at different points on your arms depending on what part of your body is in need of help. She told me all about chi and how the body works and what kind of things chinese medicine and acupuncture can help. She said my spleen is struggling. The spleen is in the master behind blood production in the body and the distribution of the blood to the muscles. When it struggles, it makes it hard for the body to process food for the nutrients you get. That is due to stress and instability. Hello! You all know what I do for work!! That makes a lot of sense. She also told me that I look healthy overall, but she would say that I exercise a lot, eat pretty good and see no results on the scale!!!! She also said that I probably eat a lot of cold items: apples, carrots, cucumbers, and salads... yep, yep, yep and YEP!! She had no way of knowing that. NO WAY!! She started telling me so many things about my health... even my doctor at home isn't that good. Crazy. So she had me lay down and put in 6 needles. One in my left leg in the front(where the spleen line is), one near the big toe on the top of each foot(kinda tinglely, but not painful), one on each hand between the thumb and pointer finger... now that one was crazy. When she put it in and found it's proper place, it felt like electricity flowing through my pointer finger into my arm... never any pain, just odd feelings. Same feeling on the right side. Then she put one right between my eyebrows! That is the 'third eye' and is for calming and relaxation.
I laid there for about 15 minutes and breathed... she spoke the whole time very quietly. She said that since my spleen was deficient, I might get some sensations and to ask if any concerned me. Well after about 3-4 minutes, my legs started twitching. She said that happens, because when you start treating the spleen, it increases blood flow where needed and will cause some slight twitching... i thought it felt amazing. Then she took them out. She had explained all about chi and the ying and yang of the balance of the body. I had known about some of that, but she really helped me understand it. I was ying deficient... typical for women. I am going to look into finding one around here... I think it will be well worth it. It was an amazing experience... I slept like a baby!!